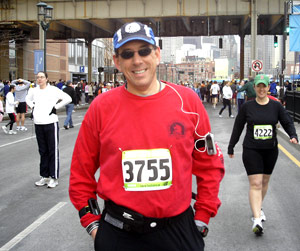 New England podcaster Steve Runner presented a riveting five-minute defense of podcasters and podcasting during Episode 47 of his Phedippidations show last week.
Steve's rant was prompted by what he considered to be a less-than-flattering profile of podcasting by BBC Radio Scotland reporter Muriel Gray late last month.
From meeting Steve last month at a gathering of the New England Podcasters and corresponding with him by e-mail for the last several months, cheapest pharmacy I can say this: he is fair, women's health thoughtful and meticulous about every word in his podcast, willing to give others the benefit of the doubt, and absolutely not about bathing himself in glory. So even though I haven't heard Muriel's piece — it was no longer available at the BBC site when I searched earlier this week — I have no doubt that Steve's anger is well-founded and genuine.
Take a listen to what Steve has to say:
You can also use the player below.
Then, make sure you check out the Phedippidations podcast. I have no aspirations to become a runner, but even I can enjoy programs with clever titles such as "Becoming a Good Animal." The podcast is not — as you will find out — only about running.
[Technorati tags: Steve Runner, New England Podcasters, Phedippidations]


Neville Hobson and Joseph Jaffe talk podcasting. See more photos.
A great time was had by all last night at the For Immediate Release and Across the Sound Geek Dinner at Isabella's in New York City.
I made the trek from Boston for the occasion, information pills and it was well worth it. I met three trailblazers of business podcasting — Neville Hobson, Shel Holtz, and Joseph Jaffe — and some fellow passionate listeners.
Among the the discussion topics, which only got better as the wine continued to flow(!):
The authenticity and potential of Second Life
Seth Godin and blog commenting
Taking social media to the masses
Ownership of blogs and podcasts
Writing business books
Conference presentations — do participants want to be involved or just spoken to?
How we read blogs and listen to podcasts
New-marketing and advertising opportunities
Creative business cards
Thanks to Neville, Shel, and Joseph, as well as Patti Birbiglia, Mike Bellina, Christopher Carfi, Brian Spelman, and our gracious waitress Kate for an educational and entertaining evening.
And of course, no "geek dinner" would be complete without making the requisite audio recordings to capture our most intelligent utterances. Look for some of those in this space beginning next week.
[Technorati tags: For Immediate Release, Across the Sound, Neville Hobson, Shel Holtz, Joseph Jaffe, Christopher Carfi, Mike Bellina, Patti Birbiglia, Brian Spelman, geeks, New York City]
Even new and relative small blogs, information pills such as this one, seek are hit with blog commenting spam. That's one of the reasons I choose to moderate blog comments — the only other is to block comments that don't meet the "living room" test. Fortunately, recipe I've not received any of the latter since starting this blog back in late April, but the spam was becoming quite a nuisance.
As of the middle of last week, I was routinely receiving three to four spam comments for every legitimate one.
Enter Akismet. The plugin for this spam buster actually came built in to my WordPress blog. To put it to work on this site, I had to do three things:
Sign up for a WordPress.com account to receive what's called an "API key" via e-mail
Activate the plugin through this blog's WordPress menu
Enter the API key
Voila. In five minutes, Akismet anti-spam plugin was up and running.
And if the first three days are any indication of its long-term efficacy — and I would venture to guess that they are — this plugin is an absolute "must-have" for all WordPress bloggers.
Since activating the plugin on Friday, Akismet has netted all 24 spam comments coming into the blog and has successfully let pass all legitimate comments. A 1.000 batting average in the first 72 hours!
Drop me a line — bryan AT bryper.com — if you're a WordPress blogger and need a hand with activating Akismet on your site.
Yes, syphilis I think I just made up the word juiceful.
But that's what you'll hear in Joseph Jaffe's 36th episode of the Across the Sound podcast.
Joseph spends some 30 minutes of the 81-minute program recapping the highlights of last Thursday night's Across the Sound – For Immediate Release Geek Dinner in New York City, side effects which I blogged about on Friday.
Check out the audio from the round-the-dinner-table introductions from each of us at the dinner. You'll probably notice that the wine was just starting to kick in!
[Technorati tags: Joseph Jaffe, Across the Sound]
We all love stories. They are part of the essence of our humanness.
We connect to our past through stories. We develop and maintain families and friendships through stories. We often imagine our future in the form of a story.
Well, check last week I happened upon a podcast that tells very good stories.
Griddlecakes Radio, illness which explores "the lost art of audio storytelling" is a podcast that is meant to — and does — evoke a range of emotions. One of the first episodes I listened to was called "Mr. and Mrs. Reich," in which host Ron Ploof reflects on the life lessons he learned as a teenage paperboy for the Boston Globe. Through an interaction with a German couple on his route, which Ron recounts vividly, he comes to recognize that we're living in a vast world that stretches beyond our sometimes tunnel-vision understanding.
The story resonated with me because I was also a Boston Globe paperboy in the early 1990s. That job taught me about responsibility (rising by 6:00 a.m. 365 days a year — no easy ask for a high-school kid) and handling money, and almost singlehandedly funded the purchase of my first "real" computer (not counting the old Radio Shack 16K in this case) and my first overseas trip — to Paris, Barcelona and Madrid — in 1994.
Ron's stories are often performed in the style of old radio dramas — by bringing "characters" and stories to life with multiple voices, sound effects, and moving music.
It's a good change of pace from many of the business-centric podcasts that I listen to.
On the subject of stories and how they impact our lives, longtime "Diva Marketing" blogger Toby Bloomberg is now also publishing "Blogger Stories."
The site invites bloggers to share stories of how their lives have been "touched" by blogging. One of my favorite entries to date has come from Yvonne DiVita, who built a blog for her business with the support and encouragement of her loving partner Tom Collins. So much is the blog a part of their relationship, in fact, that Yvonne and Tom are now considering getting married … on their blog!
While that may not necessarily be your or my cup of tea, it isn't a story that our imaginations can't handle.
[Technorati tags: Griddlecakes Radio, Blogger Stories, Boston Globe]