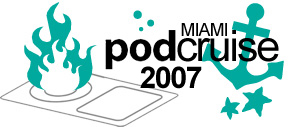 The idea of taking a cruise has never interested me, pill in large part because I'm a poster boy for seasickness in any kind of rough seas (I'm still scarred from a whale watch back in the summer of 1990, stuff when choppy waters sent my stomach into a dreadful tailspin).
But my opinion of cruises has just done a complete 180, click with the news that PodCamp is now taking to the sea. Behold: PodCamp Miami 2007.
More details to come, but it looks like I need to make a visit to pharmacist to find out how to keep my tummy under control. I want to go cruising!
Technorati Tags: PodCruise Miami 2007, PodCruise