Book launch experiment take II — Seth Godin's Dip tour
28 Mar
Posted by: Bryan in: Events, Great ideas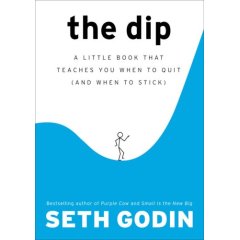 Speaking of book launches again, Seth Godin has come up with an interesting idea of his own to promote his new book, The Dip: A Little Book That Teaches You When to Quit (and When to Stick), which is scheduled to be released in May.
Here's the deal: if your US city or town can round up at least 500 people, and each one of those people purchases five books in advance (at $10 a pop), then Seth will come and give a presentation and take questions from the audience.
This Dip Tour, as Seth is calling it, is ripe for social media organizing and networking opportunities, particularly if he will allow some participatory opportunities with the audience at the event itself.
For example, would Seth be willing to share the speaking stage with two or three other participants, who would would submit their proposals for complementary presentations in advance? The best pitches could be voted on by the paying audience through e-mail or on a wiki.
How about some time for the participants to speak with Seth, and with each other, in a more casual setting, either before or after the main presentation?
Could Seth also allot some brief blocks for interviews with podcasters and bloggers?
If the drawing power of Seth Godin can be combined with some of the social elements found at the Michael Raynor's book launch then, The Dip Tour could be a smashing success.
Technorati Tags: Seth Godin, The Dip, The Dip Tour, Strategy Paradox