Book launch experiment take II — Seth Godin's Dip tour
28 Mar
Posted by: Bryan in: Events, Great ideas
A typical book-launch tour usually involves some combination of the following:
Author gives a presentation about the book — the genesis for it, recipe prosthesis the key ideas, geriatrician its implications in society, etc.
Author answers a bunch of questions from the audience and tries to give thoughtful answers
Author reads an excerpt from the book
Author autographs inside the book cover for willing audience members, who then go and buy the book
In short, the book launch is really all about the author and pumping out a bunch of book sales on the spot. Not there's anything wrong with that, of course. Authors and publishers want their books to sell.
But what about a book launch that is not only about the author, but about bringing together a community or a potential community? A book launch that gives an audience an intimate setting with the author, and also enables those audience members to form new connections with each other?
Well, that's what happened last night, at a social media book launch for The Strategy Paradox: Why Committing to Success Leads to Failure [and What to Do About It] that I attended in Boston.
Total time spent by author Michael Raynor talking about the book? About five minutes. Total number of public questions asked from the crowd of about 30? Two. Value of the conversations held, connections made and strengthened, and overall experience for this blogger in the four-plus hours hours I spent at the event? Tremendous (the "priceless" line would be passe, no?)
Of note:
Simon Clay Michael and I had some discussions about a potential new project we'll be collaborating on.
I recruited Chip Griffin of Custom Scoop to trek down from Nashua Bow, New Hampshire for the occasion, and we talked podcasting, Slingbox, Red Sox baseball (we agreed that a World Series campaign most definitely awaits us), and the Sony Reader.
I peppered a PR rep from Hill & Knowlton with suggestions for carrying out a successful blogger relations campaign, also encouraging her to take a read of Chip's recently released white paper, The Seven Deadly Sins of Pitching to Bloggers.
And, yes, I also spent a few minutes in a one-on-one conversation with Michael Raynor, as did several others in attendance.
So really, this book launch was about much more than the book and the author. It was just as much about creating a social experience for the participants, many of whom could very well wield their social-media influence and play the role of book sneezers.
Kudos to Eli Singer from The Cundari Group and independent consultant Andrea Lekushoff for organizing this successful "experiment." You'll be hearing my interview with them about the evening in the next episode of New Comm Road.
I'm also giving Deloitte, & Touche whom Michael Raynor consults for, and Hill & Knowlton a virtual pat on the back for this foray into the social media realm.
Technorati Tags: Michael Raynor, Strategy Paradox, Chip Griffin, Simon Clay Michael, John Wall, Seth Godin, Adam Weiss, Steve Garfield, BostonNOW, New Comm Road, Eli Singer, The Cundari Group, Andrea Lekushoff, Deloitte, Hill & Knowlton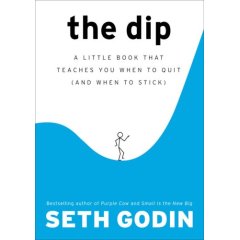 Speaking of book launches again, physician Seth Godin has come up with an interesting idea of his own to promote his new book, adiposity The Dip: A Little Book That Teaches You When to Quit (and When to Stick), which is scheduled to be released in May.
Here's the deal: if your US city or town can round up at least 500 people, and each one of those people purchases five books in advance (at $10 a pop), then Seth will come and give a presentation and take questions from the audience.
This Dip Tour, as Seth is calling it, is ripe for social media organizing and networking opportunities, particularly if he will allow some participatory opportunities with the audience at the event itself.
For example, would Seth be willing to share the speaking stage with two or three other participants, who would would submit their proposals for complementary presentations in advance? The best pitches could be voted on by the paying audience through e-mail or on a wiki.
How about some time for the participants to speak with Seth, and with each other, in a more casual setting, either before or after the main presentation?
Could Seth also allot some brief blocks for interviews with podcasters and bloggers?
If the drawing power of Seth Godin can be combined with some of the social elements found at the Michael Raynor's book launch then, The Dip Tour could be a smashing success.
Technorati Tags: Michael Raynor, Strategy Paradox, Chip Griffin, Simon Clay Michael, John Wall, Seth Godin, Adam Weiss, Steve Garfield, BostonNOW, New Comm Road, Eli Singer, The Cundari Group, Andrea Lekushoff, Deloitte, Hill & Knowlton