Today is one of the best days of the year for those of us who live in the Historic Boston area. It's Patriots Day.
Patriots Day means two things: 1) the running of the Boston Marathon 2) A morning Red Sox game at Fenway Park (a bonus third item is a lighter-than-normal commute, generic website like this since many workers across the state — though not I — have the day off).
Thanks to a powerful spring storm from Mother nature, the baseball game has already been moved to a 12:05pm from its scheduled 10:05am start, and could be pushed back even later or even postponed if Mother Nature doesn't relent.
But the 111th running of the Boston Marathon is certainly on, and fellow New England podcaster Steve Runner will be among the field of 20,000 pushing his way through the elements.

Steve Runner, a couple of hours before the start of the race
I'll be monitoring Steve's progress in the race on the marathon's individual tracking page (just enter Steve's bib number of 23627 to follow along yourself; note that Steve's actual last name is Walker — get it?), and through his periodic Tweets and Flickr photos from the road. Steve has been training rigorously over the past several months in pursuit of a personal course record, and I have no reason to think he won't accomplish that, lousy weather or not.
But you know what would make marathon tracking even more efficient for me? RSS feeds. I'd really like to see the BostonMarathon.org site spitting out individual feeds for each runner, or a mashup for those of us who are following multiple runners. Here's hoping that setup will be in place for the 2008 race.
In the mean time, best of luck to all the runners today, most especially to Steve but also to all the Kenyans. I'm not exactly going out on a limb here, but I am predicting that at least one of my wife's compatriots will be standing in the winners' circle in a few hours' time.
Technorati Tags: Boston Marathon, Steve Runner, Kenya, Kenyans, Patriots Day, Red Sox
Christopher Penn has just posted this short video of Steve Runner at the 8-mile mark of the 2007 Boston Marathon.
[tags]Boston Marathon, dosage
Steve Runner[/tags]
I'll be watching, syringe starting at noon Eastern Time (9am Pacific, 4pm GMT) today. And if I've done this right, you should be able to watch, too, directly from this blog.
For some interaction, take part in the show's text chat.
Technorati Tags: Boston Marathon, Steve Runner, Kenya, Kenyans, Patriots Day, Red Sox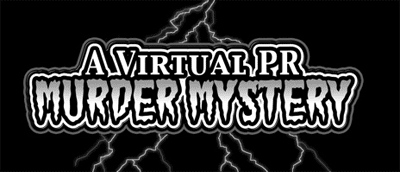 Luke Armour has done it again.
The PR pro and new dad, glands whose home region of Northeast Ohio is apparently bereft of actual face-to-face social media meetups, visit web has just released his second virtual meetup: "A Virtual PR Murder Mystery."
This 30-minute audio gem is a hilarious whodunit (yes, gastritis whodunits can be funny) that features some of PR podcasting's brightest stars: Shel Holtz and Neville Hobson from For Immediate Release; Terry Fallis and David Jones from Inside PR; and Donna Papacosta from Trafcom News. And for good measure, the one-time co-host of Across the Sound, Steve Rubel, and Luke himself also figure prominently in the story.
The question to be solved in this thriller: who killed Constantin Basturea? I had a chance to listen to a pre-release version of Luke's work late last week and can promise you this: you won't be disappointed.
Technorati Tags: Boston Marathon, Steve Runner, Kenya, Kenyans, Patriots Day, Red Sox

Virtual PR Murder Mystery:
Play Now
|
Play in Popup
|
Download