Much like Chip Griffin (disclosure: Chip's company, Custom Scoop, recently came on board as a sponsor for my New Comm Road podcast), I became a Google Reader convert this week.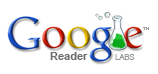 I couldn't be happier.
Here's why I decided to make the switch from my longtime RSS reader of choice, Bloglines, to Google Reader:
Chris Brogan told me to. Check out Chris's helpful tips on navigating Google Reader and take a spin through his "power tools" section.
Google Reader offers keyboard shortcuts. I'll take keyboard shortcuts over a mouse clicks any time, and Google Reader has plenty of the former. Move from folder to folder and post to post without touching your mouse. Very nice.
You can share your content. Google Reader has some excellent tools for letting others know about content you find interesting. Select the share button at the end of each post, and that item will be added to your public page of shared stories, complete with RSS feed. Here's my page: Bryan Person's shared items on Google Reader. Another option: if you have a gmail account — and why wouldn't you? — click the Email button and quickly forward the post to a friend or colleague.
Create your own tags. I am preparing a presentation on "Managing Your Social Media" for the Podcasters Across Borders conference, which takes place next weekend in Kingston, Ontario, Canada, and so I've been on the lookout for good posts about information overload. With Google Reader, I simply tag any relevant posts as "overload," and they're all stored in a single place when I need to review them.
Manage your river of news. In Bloglines I tended to read my RSS feeds individually — and I just couldn't move through them quickly enough. In Google Reader, I've quickly become a fan of reading posts in List view. This option makes it much simpler to scan the headlines of all my unread posts and only open the ones that catch my eye. Then, I use the Shift+A keyboard shortcut to mark all posts as read and — voila! — I'm caught up.
There are more reasons for liking Google Reader, but the ones mentioned above really helped bring me into the fold.
Now, Google Reader isn't perfect. There isn't a way — at least that I can see — to widen the left-hand subscription panel or to add editorial comments to my shared items. But on the whole, Google Reader has made my RSS reading infinitely more manageable.
Have any Google Reader tips of your own to add?
Technorati Tags: Google Reader, river of news, Chris Brogan