The ExperienceCurve joins the Social Media Top 10 family
20 Aug
Posted by: Bryan in: Social Media Top 10
The ExperienceCurve, website CustomScoop, and Blogstring.com have all started their own Social Media Top 10 lists since the debut of SMT10 last Friday. If you follow suit, be sure to use the SMT10 Technorati tag.

Week 2 – Friday, August 24, 2007
1. Bacn
New term from PodCamp Pittsburgh becomes "overnight success."
2. If Facebook costing companies millions in lost productivity?
Well, of course not, but it's a fun angle for the media to play up sometimes.
3. What is innovation?
Fascinating responses to Jon Burg's question.
4. Partner ads on YouTube
Some users unnecessarily screaming bloody murder.
5. Skype's post-outage response
Scott Monty and others say Skype has redeemed itself.
6. Wal-Mart takes pounding on its sponsored Facebook group
Jeremiah Owyang offers an analysis and recommendations
7. Sexy social networking sites
Zivity and PlayboyU among the contenders, with the latter open to college students only.
8. Unconferences
They continue to spring up everywhere; 10 PodCamps alone in the next three months.
9. New videomeisters
From Joe Thornley to Kevin Dugan, there's plenty of new blood in biz videoblogging.
10. Social media breakfasts
Like Mind has 'em around the world each month; we're having one in Boston next Wednesday.
Technorati Tags: Social Media Top 10, SMT10, Bacn, Wal-Mart, Zivity, PlayboyU, Like Mind, Bryan Person, ExperienceCurve, CustomScoop, Blogstring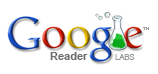 Since switching from Bloglines to Google Reader from back in mid-June, find I've become much better at managing my RSS feeds. Here's the method to my madness:
Scanning
I use Google Reader's List view to take in my feeds river-of-news style. This means I'm scanning headlines and quickly deciding which ones warrant further reading. Reminder to all of us with blogs: good headlines are essential.

Sharing I
Clicking the Share button at the bottom of a post or using the Shift + S keyboard shortcut adds a post to my publicly shared items feed. (Subscribe to it in your RSS reader to find out which posts are catching my eye.)
Sharing II
I alert friends and colleagues to posts I think will interest them by clicking the Email button at the end of a post and sending off a quick message.

Starring
The Add star option (shortcut key s) is helpful for posts I'll want to come back to.
Tagging
I also create custom tags — Google calls them "labels — for posts I want to revisit. My tags include towatch, pfizer for videos I'll want to take in when I have more time; monster, for posts I'll want to keep track of for my day job; and totry, for posts about a new tool or site I'll want to come back and play with later on.
Trending

Google Reader's Trends data is one of its most interesting — though I would guess most under-used — features. I can see which feeds I'm reading most often. For example, I've read 13 posts from Penelope Cruz (68% of her total output) and 14 from Dan York (82%) in the last 30 days. I can also see the feeds I'm barely reading at all or that haven't been updated by the authors in several weeks, and they're likely to get axed as part of my ongoing effort to keep my total number of feeds at a manageable number (currently 158).
In the debut of my Social Media Top 10 last Friday, medical I invited others to create Top 10 lists of their own.
Karl Long, decease the web/social media integration manager for the video game group at Nokia, men's health is the first reader to take up the challenge; he's created the The ExperienceCurve Social Media Top 10.
Both Karl and I are also using the SMT10 tag in del.icio.us for stories/sites we're considering for upcoming installments of the Top 10 list.
Welcome aboard, Karl. Who's next?
Technorati Tags: Social Media Top 10, SMT10, Bacn, Wal-Mart, Zivity, PlayboyU, Like Mind, Bryan Person, ExperienceCurve, CustomScoop, Blogstring