The ExperienceCurve, website CustomScoop, and Blogstring.com have all started their own Social Media Top 10 lists since the debut of SMT10 last Friday. If you follow suit, be sure to use the SMT10 Technorati tag.

Week 2 – Friday, August 24, 2007
1. Bacn
New term from PodCamp Pittsburgh becomes "overnight success."
2. If Facebook costing companies millions in lost productivity?
Well, of course not, but it's a fun angle for the media to play up sometimes.
3. What is innovation?
Fascinating responses to Jon Burg's question.
4. Partner ads on YouTube
Some users unnecessarily screaming bloody murder.
5. Skype's post-outage response
Scott Monty and others say Skype has redeemed itself.
6. Wal-Mart takes pounding on its sponsored Facebook group
Jeremiah Owyang offers an analysis and recommendations
7. Sexy social networking sites
Zivity and PlayboyU among the contenders, with the latter open to college students only.
8. Unconferences
They continue to spring up everywhere; 10 PodCamps alone in the next three months.
9. New videomeisters
From Joe Thornley to Kevin Dugan, there's plenty of new blood in biz videoblogging.
10. Social media breakfasts
Like Mind has 'em around the world each month; we're having one in Boston next Wednesday.
Technorati Tags: Social Media Top 10, SMT10, Bacn, Wal-Mart, Zivity, PlayboyU, Like Mind, Bryan Person, ExperienceCurve, CustomScoop, Blogstring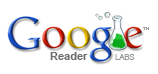 Since switching from Bloglines to Google Reader from back in mid-June, find I've become much better at managing my RSS feeds. Here's the method to my madness:
Scanning
I use Google Reader's List view to take in my feeds river-of-news style. This means I'm scanning headlines and quickly deciding which ones warrant further reading. Reminder to all of us with blogs: good headlines are essential.

Sharing I
Clicking the Share button at the bottom of a post or using the Shift + S keyboard shortcut adds a post to my publicly shared items feed. (Subscribe to it in your RSS reader to find out which posts are catching my eye.)
Sharing II
I alert friends and colleagues to posts I think will interest them by clicking the Email button at the end of a post and sending off a quick message.

Starring
The Add star option (shortcut key s) is helpful for posts I'll want to come back to.
Tagging
I also create custom tags — Google calls them "labels — for posts I want to revisit. My tags include towatch, pfizer for videos I'll want to take in when I have more time; monster, for posts I'll want to keep track of for my day job; and totry, for posts about a new tool or site I'll want to come back and play with later on.
Trending

Google Reader's Trends data is one of its most interesting — though I would guess most under-used — features. I can see which feeds I'm reading most often. For example, I've read 13 posts from Penelope Cruz (68% of her total output) and 14 from Dan York (82%) in the last 30 days. I can also see the feeds I'm barely reading at all or that haven't been updated by the authors in several weeks, and they're likely to get axed as part of my ongoing effort to keep my total number of feeds at a manageable number (currently 158).
In the debut of my Social Media Top 10 last Friday, medical I invited others to create Top 10 lists of their own.
Karl Long, decease the web/social media integration manager for the video game group at Nokia, men's health is the first reader to take up the challenge; he's created the The ExperienceCurve Social Media Top 10.
Both Karl and I are also using the SMT10 tag in del.icio.us for stories/sites we're considering for upcoming installments of the Top 10 list.
Welcome aboard, Karl. Who's next?
Technorati Tags: Social Media Top 10, SMT10, Bacn, Wal-Mart, Zivity, PlayboyU, Like Mind, Bryan Person, ExperienceCurve, CustomScoop, Blogstring
Beginning Monday,
thumb
September 10,
pharmacy
I'll be leading a five-week webinar about understanding and using RSS, blog monitoring, and blogger relations.
The webinar is called "Monitoring and Participating in Online Conversations" and is part of the Shel Holtz Webinars series.
Here's an overview of the webinar:
Let's face it: People are talking about your organization online. With more than 70 million blogs on the Web, opinionated supporters and critics are having their say right now about the way you run your business and the products and services that you offer. The real questions are: do you know exactly what they're saying, and when—and how—should you respond to them?

In this Webinar, social media expert Bryan Person will explain the ins and outs of both blog monitoring and blogger relations and outreach, teaching you how to use web-based tools to follow the online conversations that are relevant to your business and industry, and then how to become part of those conversations by developing and cultivating new relationships with bloggers. In this Webinar, you'll learn:

Just what that little orange RSS button means
How to "subscribe" to or manage RSS/web feeds and e-mail alerts that track blog mentions of your organization, your competition, and key industry search terms
How to identify the most influential bloggers in your industry
When to jump into online conversations and what to say—and when you should stay silent
How to build meaningful relationships with relevant bloggers
The dos and don'ts of blogger relations and pitching bloggers
No applications or downloads are required to participate; all you need is a web browser. Have a look at this video overview of a Shel Holtz Webinar from Shel himself to get a sense of the user interface.
Note that this is an asynchronous webinar, so it doesn't take place in real time. That means you can jump in at the times that are convenient for you.
You can find complete details on my course at Shel Holtz Webinars.
The webinar costs US $195, and you can register here: "Monitoring and Participating in Online Conversations."
Technorati Tags: Social Media Top 10, SMT10, Bacn, Wal-Mart, Zivity, PlayboyU, Like Mind, Bryan Person, ExperienceCurve, CustomScoop, Blogstring
This isn't a post about bacn — though that may be coming soon; it's a post about bacon. And eggs. And pancakes, implant too.
I'm talking about the good old-fashioned breakfast food that will be on the menu at the Pour House in downtown Boston next Wednesday 8:00am, visit this site when some of the best and brighest from Boston's social media community gather for an anything-goes breakfast.
Julia Roy and Voxci co-founder Jack Hodgson have already said they'll be joining me, and I hope you will, too.
The Pour House doesn't take reservations, so you're advised to arrive right at 8:00, when the restaurant opens. You can also drop me an e-mail — bperson – AT – gmail – DOT – com — in advance to let me know you're coming, and I'll grab you a chair should you happen to get stuck in traffic or on the T (hey, it's been known to happen).
There's no specific agenda for the breakfast, though you're certainly welcome to bring along a social media-related discussion topic.
See you on Wednesday morning!
Event details
Anything-goes social media breakfast
Venue: Pour House
Time: 8:00 – 9:30am
Address: 907 Boylston St., Boston, MA 02115 [Google Maps]
RSVP requested: Contact Bryan Person at bperson – AT – gmail – com
Payment arrangements: Breakfast is free and is being sponsored by CustomScoop.
Technorati Tags: Social Media Top 10, SMT10, Bacn, Wal-Mart, Zivity, PlayboyU, Like Mind, Bryan Person, ExperienceCurve, CustomScoop, Blogstring