Social media for nonprofit organizations
12 Mar
Posted by: Bryan in: Podcast recommendations
Two excellent podcast episodes on social media and nonprofits made their way to my ears in the past week:
Big Ideas, Small Budget. In this audio roundtable discussion hosted by Donna Papacosta as part of episode 72 of her Trafcom News Podcast, a group of business communicators talks about the challenges, costs, and rewards of creating social-media content for their nonprofit organizations (Disclosure: I work with Christie Goodman, one of the guests on the show, on a podcast series for the nonprofit company IDRA).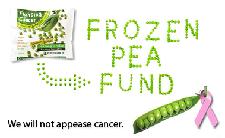 FIR Interview: Connie Reece, Frozen Pea Fund. Shel Holtz and Neville Hobson, co-hosts of the For Immediate Release podcast, speak with Connie Reece about her efforts to raise money for breast cancer research through a program called the Frozen Pea Fund. If you spend much time on Twitter, you may already be aware of the Frozen Pea Fund, which was founded by Connie late last year as a measure of support for Susan Reynolds, who's fighting breast cancer.
In addition to sharing Susan's story, Connie also talks about the Frozen Pea Fund's partnership with the American Cancer Society, as well as the opportunities for nonprofits to use social media in carrying out their missions.