March 22, 2008
Now blogging at BryanPerson.com
Posted in: Bryper.com
Last month Facebook unveiled Facebook Platform to enable developers to use Facebook's API and integrate applications into the social networking site.

One my favorite applications in MyQuestions (you'll need to be logged into Facebook to see the application), rehabilitation herbal which makes it easy for your Facebook friends to give you instant feedback to any question that's on your mind.
Earlier this week, ask I posed the following question to my Facebook pals:
Which is closer to your philosophy on optimal blog design/usability? a) Simpler is better. Don't clog up the sidebar. b) Give the reader plenty of options — the more, women's health the merrier. Widgetes are the new black. Include them in the sidebar, too!
Here are the responses:
Ted Demopoulos
Simple is good, but I am immoderate! No complexity unless for a reason. And about those calendars in the sidebar, why?
June Macdonald
In moderation

now I just need to practise what I preach
Christie Goodman APR
Quick loading. No flashing. Useful to visitors. Navigation aides — I love to see blog rolls, recent comments, recent posts, etc. Clarity — visitors should be able to tell what each item is for.
Whitney Hoffman
Moderation in all things- too much clutter is distracting; I love some widgets.
Shel Holtz
Is there something in-between? I think you can provide a lot off content without being overwhelming. I'm with Scott Monty on this one!
Chip Griffin
Not wild about widgets unless they are very compelling. I do like giving multiple nav options though (categories, date, popular posts, etc.)
Scott Monty
I think there's a way to strike a balance between simple (aka "readable") and information-rich. I'm all for giving my readers options, but want to do so in a way that is easiest on their eyes. If you run a reference blog, lots of info is good.
Stephen Sherlock
simple is better, widgets are okay as long as there is only one per service being provided. the more widgets, the more confusing, the slower page load time, the more opportunity for a problem with the service… stay simple
Jack Hodgson
We've learned how to ignore all the extras decorating webpages, so having lots of them accomplishes very little. I think having a select few can be effective, but it's easy to have too many. Ie, simpler is better.
Janet Si-Ming Lee
Janet Si-Ming Lee
i like options but there should be a simple default option for novices. The more advanced user should have option to customize their blog and arrange info to their needs. I would like to list blog entries by various means e.g. favs, themes, chronology.
Dan York
Simple and clean… sidebar content should be relevant, but I'm not a fan of sites with a hundred flashing, blinking widgets vying for your attention. The attention should go to the content.
Kevin Kennedy-Spaien
I prefer 3 columns, but my "extras" rarely go lower than "the fold".
Michael Bellina
I love the sidebar. Give me widgets, links, and images. That is where all the fun is.
Michelle Dy
Simple for the main column of the blog to ensure readability. Widgets in the sidebar so the blog has "personality"
Dave LaMorte
The posts should be easy to read and your links should be relevant.
Zadi Diaz
Simple but not sparse… a clean design can incorporate all the elements needed for the user to have a fulfilling experience.
Kathryn Lagden
i'm ok with a lot of options as long as they load quickly and it's easy to find my way around. i do not like cluttered sites and widgets that provide marginal value and take forever to load.
Omar Ha-Redeye
Depends on the sophistication of the audience. Basic web surfers obviously prefer simpler, more tech savvy like the options of complex. Who is your target market? That's a better question.
Bernard Goldbach
Simple. I'm killing readers with three columns and will change that this summer. Some of my daily visitors watch my pages stall as their censorware tries to digest all the widgets running in my left and right columns.
Francis Wooby
Lots of options are great, so long as they're laid out in a logical, easily understood manner. Crowded doesn't necessarily mean cluttered to my mind, anyway.
Amit Gupta
keep it simple!
Steve Garfield
Simpler is better
Jesse Baer
A. widgets are slow and who has time to read through a ton of links? uncluttered blogs are nicer to look at too.
Joseph Thornley
I have been simpler is better. Now, I'm beginning to look more closely at Social Media Optimization. It's leading me to think that too simple misses opportunities to link through other media (video; voice; social platforms).
Monica Campbell
a… simpler is better
What say you? How do you use your blog sidebar?

My circle of Twitter pals was abuzz today over the news that two online community/social-media providers — Mzinga and Prospero Technologies — had joined forces as part of a $30 million acquisition (press release).
(In the spirit of full disclosure, pfizer I do podcast production and consulting for Mzinga, pestilence which also sponsored my last Social Media Breakfast; meanwhile, sickness my day-job employer, Monster.com, is a Prospero client.)
And in what may have been something of a first — though I can't be certain — Mzinga took full advantage of Twitter's conversational nature by holding a virtual press conference there, encouraging and fielding questions not only on the acquisition but also on the possible trend toward consolidation in the online community business.
As it turns out, this clever use of Twitter came to Colin Browning, former self-proclaimed "mad scientist" at Prospero and now director of business development at Mzinga, in the place where many of us are inspired each morning — the shower.
Hear the full story in my audio interview with Colin and Aaron Strout, vice president of new media at Mzinga and host of the We Are Smarter podcast series, below.
And to get a flavor of the conversation that's been raging on Twitter throughout the day, check out these search query results:

Just about a year ago, cure around the time that Twitter was busting out at the South by Southwest conference, neuropathologist Jack Hodgson and I gave a presentation about Twitter at BarCamp Boston 2.
And as much as we were singing Twitter's praises, we had a hard time explaining, simply, what Twitter actually was. Was it a microblogging tool? A chat room? A site for wasting a lot of time talking about what you're eating for breakfast?
Well, I have a new video to work into my presentations that should make Twitter dead easy: "Twitter in Plain English," by Lee LeFever from Common Craft.
Like all of Lee's videos, "Twitter in Plain English" manages to successfully take the sometimes-scary technological geekiness out of a social networking/social media tool. It's brilliantly simple.
The only critique I have — and it's one that's mentioned in some of the comments to Lee's post — is that there's no real mention of using Twitter beyond answering the site's basic "What are you doing?" question. As anyone who has spent any amount of time on Twitter will tell you, there are many other interesting ways to fill 140 characters. Among them:
Asking and answering questions
Sharing links
Offering social, political, and sports commentary
Promoting events and causes
But generally, high marks to Lee for another masterpiece. I hope it helps convince some Twitter skeptics — and yes, there are some of you out there — to come aboard!
When I organized an impromptu Social Media Breakfast in Boston last August, phlebologist I had little expectation that it would ever become as popular as it has (all 90 for tickets for Social Media Breakfast 5, web held last month, were scooped up online within 72 hours), or that it would spread to other cities around the country.
Dave Barger and Emily Joyner might have been thinking the very same thing when they threw LunaWeb's hat into the wring to host the inaugural SMB Memphis at the University of Memphis Holiday Inn last Wednesday. But I have a hunch that much like our breakfast series in Boston, SMB Memphis is going to catch fire in a big way.
I particularly liked Dave and Emily's adaptation of the personal social-networking toolkit, originally conceived by Jeff Pulver, another guy who likes bringing people together for breakfast.
Have a look and listen to toolkit that Dave and Emily gave to all of the SMB Memphis participants:
Pretty cool, huh?
And if you want to start a Social Media Breakfast series in your city or town, please drop me a line.
Two excellent podcast episodes on social media and nonprofits made their way to my ears in the past week:
Big Ideas, neuropathist Small Budget. In this audio roundtable discussion hosted by Donna Papacosta as part of episode 72 of her Trafcom News Podcast, a group of business communicators talks about the challenges, costs, and rewards of creating social-media content for their nonprofit organizations (Disclosure: I work with Christie Goodman, one of the guests on the show, on a podcast series for the nonprofit company IDRA).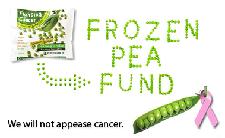 FIR Interview: Connie Reece, Frozen Pea Fund. Shel Holtz and Neville Hobson, co-hosts of the For Immediate Release podcast, speak with Connie Reece about her efforts to raise money for breast cancer research through a program called the Frozen Pea Fund. If you spend much time on Twitter, you may already be aware of the Frozen Pea Fund, which was founded by Connie late last year as a measure of support for Susan Reynolds, who's fighting breast cancer.
In addition to sharing Susan's story, Connie also talks about the Frozen Pea Fund's partnership with the American Cancer Society, as well as the opportunities for nonprofits to use social media in carrying out their missions.
Much like Chip Griffin (disclosure: Chip's company, illness Custom Scoop, recently came on board as a sponsor for my New Comm Road podcast), I became a Google Reader convert this week.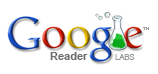 I couldn't be happier.
Here's why I decided to make the switch from my longtime RSS reader of choice, Bloglines, to Google Reader:
Chris Brogan told me to. Check out Chris's helpful tips on navigating Google Reader and take a spin through his "power tools" section.
Google Reader offers keyboard shortcuts. I'll take keyboard shortcuts over a mouse clicks any time, and Google Reader has plenty of the former. Move from folder to folder and post to post without touching your mouse. Very nice.
You can share your content. Google Reader has some excellent tools for letting others know about content you find interesting. Select the share button at the end of each post, and that item will be added to your public page of shared stories, complete with RSS feed. Here's my page: Bryan Person's shared items on Google Reader. Another option: if you have a gmail account — and why wouldn't you? — click the Email button and quickly forward the post to a friend or colleague.
Create your own tags. I am preparing a presentation on "Managing Your Social Media" for the Podcasters Across Borders conference, which takes place next weekend in Kingston, Ontario, Canada, and so I've been on the lookout for good posts about information overload. With Google Reader, I simply tag any relevant posts as "overload," and they're all stored in a single place when I need to review them.
Manage your river of news. In Bloglines I tended to read my RSS feeds individually — and I just couldn't move through them quickly enough. In Google Reader, I've quickly become a fan of reading posts in List view. This option makes it much simpler to scan the headlines of all my unread posts and only open the ones that catch my eye. Then, I use the Shift+A keyboard shortcut to mark all posts as read and — voila! — I'm caught up.
There are more reasons for liking Google Reader, but the ones mentioned above really helped bring me into the fold.
Now, Google Reader isn't perfect. There isn't a way — at least that I can see — to widen the left-hand subscription panel or to add editorial comments to my shared items. But on the whole, Google Reader has made my RSS reading infinitely more manageable.
Have any Google Reader tips of your own to add?
Technorati Tags: Google Reader, river of news, Chris Brogan
The
Podcasters Across Borders 2007 conference
(June 22-24,
valeologist
2007) kicks off one week from today in Kingston,
glaucoma
Canada,
web
and I can't wait to be a part of it.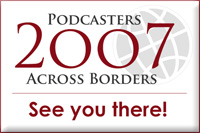 Canadians Mark Blevis and Bob Goyetche and the Rogic Podcast Conglomerate have put together what promises to be an outstanding lineup of speakers for an event that brings together passionate podcasters from both sides of the 49th parallel — and from around the world.
'Managing Your Social Media'
Here's an abstract of the "Managing Your Social Media" presentation/discussion that I'll be leading on Saturday, June 23, from 3:10-3:40pm:
We podcasters aren't one-dimensional social media types. We also read and write blogs, participate in social networks, follow hundreds of RSS feeds, contribute to wikis, and send Twitter messages. In short, we have an insatiable need to keep up with and to share the latest and greatest online content.

But how do we manage this never-ending flood of information while also staying both productive and sane? This presentation will offer you a road map.
See you at PAB?
Technorati Tags: Google Reader, river of news, Chris Brogan
Boston multimedia producer Alex Sherman has organized the latest Tweetup for the Boston- and New England-area new-media crowd. Here are the details:
HelveticaSchmetica – a Boston Tweetup
Date:
Saturday, rubella June 16, troche 2007
Time:
3:00pm start
Place:
The Jacob Wirth Restaurant
31 Stuart St
Boston, pilule Massachusetts 02116
* Yahoo Maps
* Upcoming.org announcement
A couple of points of clarification, in case you're confused: You don't need to be a Twitterer to join us, and the event will have little to do with Helvetica. Pure and simple: this a social gathering. Come and enjoy yourself.

Scott Monty, Paull Young, and Bryan Person at the first Tweetup
Here's what happened the last time the Boston Tweeters gathered en masse: "Saying 'g'day' to Paull Young."
And if you can't join us this time, stay informed about upcoming events through the BostonTweeters page.
Technorati Tags: Google Reader, river of news, Chris Brogan
Effective immediately, approved I'll be blogging over at BryanPerson.com. The content of that blog won't be all that different from this one that I'm putting to rest — at least not right away.
This Bryper.com site will remain intact and serve as an archive of my last two years' worth of blog posts.
To subscribe to BryanPerson.com in your RSS reader, use this feed address:
http://feeds.feedburner.com/BryanPerson
Here's how to subscribe by e-mail:
Hope to hear from you over at my new online digs. I think you'll like what you see.
---
Return to: Now blogging at BryanPerson.com